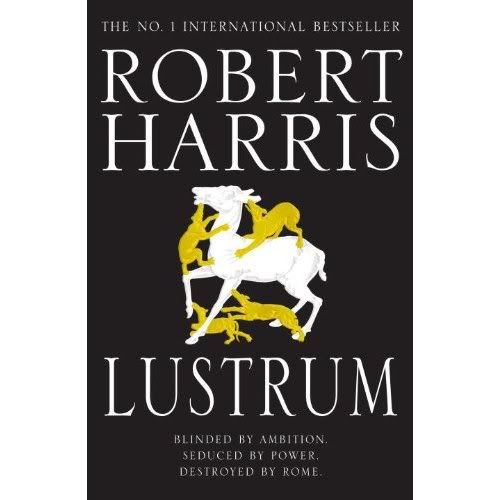 Review: Robert Harris, "Imperium" and "Lustrum" (a.k.a. "Conspirata")
Synopsis
These books are two parts of a planned trilogy based on the life of Marcus Tullius Cicero, taken mostly from his own letters and transcripts of his speeches. The rise to power of that well-known self-made Roman senator and lawyer is told from the perspective of Tiro. He was Cicero's loyal slave and amanuensis, the inventor of the first shorthand system which enabled him to accurately record every word the Senator uttered (or anybody conversing with him for that matter). We meet him in the twilight of his years (Tiro is said to have lived till one hundred, no mean feat in those times), composing his memoirs and acting as our humble narrator, knowing his days are counted and therefore he doesn't have to be afraid of anyone anymore. The focus here is not on Tiro, though, who, as a slave, is reduced to being just a fly on the wall, but on the events which swirled around him and he happened to live in very interesting times; through his eyes we witness the final days of the Roman Republic full of dramatic events – the result of scheming and conniving of the best, the brightest and the richest Roman citizens to gain more power. Cicero's court victory over the murderous tyrant Verres, despite him being supported by the aristocracy, using only the power of his oratory, was a show worth live tv transmission (pay-per-view of course, nothing less!). The victory opened Cicero the way to the highest position available in the ancient Roman Republic. It was also the beginning of his end. Sometimes when people finally reach those highest honours and posts they had strived after so badly they simply lose their focus as there's nothing left to fight for. I think it was also the problems of Cicero – "Lustrum" is a downward ride as "Imperium" was an upward journey and the pace is truly similar to that of a good rollercoaster. It starts with an ugly murder of a young slave boy who apparently became a human sacrifice as the body had been strangely mutilated. Who killed him and what for? Cicero as the new Consul would like to solve this crime but it proves more difficult that he ever imagined, especially as he must fight a more demanding opponent than Verres – the psychopathic but likeable aristocrat, Lucius Sergius Catilina. Meanwhile we are shown the unstoppable accession to power of the ruthless but very clever Gaius Julius Caesar, financed and helped secretly by a general-cum- businessman, Marcus Licinius Crassus. Abroad, Rome is consolidating its massive empire with the help of another general, Gnaeus Pompeius the Great, who is a figure very respected by his soldiers but definitely lacks Caesar's brains and insolence. A no-holds-barred struggle for power is brewing and there will be plenty of casualties. Will Cicero be able to defend his position and come unscathed? Who will he support? What effect will his decisions have on his family and friends?
What I liked:
Plenty. Even if you are familiar with the history of the ancient Rome and you know pretty well how the Republic ended you will be neither bored nor annoyed. The author is clearly confident that he's preaching to the choir : the narration is presented in such a non-condescending but captivating way that you are simply swept up by the current of events. People and their motives are unchangeable after all, so whether we see power-hungry politicians, ruthless businessmen, high-born psychopaths or vain generals we usually can relate. To put it shortly both books are well written, fast-paced and in parts so gripping that I would find myself reading yet another chapter long after I should have gone to sleep. Harris, unlike e.g. Dan Brown, truly excels in creating three-dimensional characters. The scenes set in the senate and court houses are worth the entry fee alone.
What I didn't like:
The final gesture of Tiro, after being liberated by his master (I won't tell you what it was as it would be a spoiler) was a bit too much soap-opera thing for me. I also would like to see more scenes with women playing the main role. Where's the final part, by the way?
The final verdict:

These two books are highly recommendable - even if you are not into historical books you will be delighted!

.