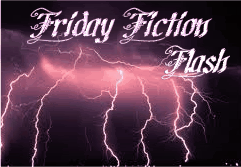 Amy C at Romance Book Wyrm and Dottie atTink's Place have come up with the idea for a Monday Morning Flash Fiction challenge. Each Monday a new picture prompt will be posted and if you choose to participate - you publish your
Fiction
Flash on Friday - 350 words, give or take.
This pic was a great found of Blodeuedd. I admit it moved my imagination because you can interpret it in so many ways! As I am off my drug of choice, caffeine, I decided to turn violent.
Out of four trap dens only one was full after the required two days of sacred hunting but one was more than enough. After all it all depended on the quarry. Were it a wild boar or a deer it would be a waste of time and efforts. Meena's slaves had dug these dens and she herself constructed the trapping mechanisms with an utter precision, trying them twice on the weakest slave to be absolutely sure they would work as they should - maiming perhaps, not killing, restraining but not breaking bones. Knowing they worked well the only thing Meena needed was a bit of luck, also called the Goddess's blessing. A visible sign that she, not the other two contestants, was designated to become the future Queen.
The alert arrow arrived right after the midnight. One trap den caught something. Not trusting anyone with such an important mission Meena decided to go and check herself. When she looked down she couldn't believe her own good luck. One of the warriors. She could clearly notice his tattoos, there was no doubt of his status. Warriors were the best kind of catch - you could sell or exchange them for weapons, you could keep them as pets if you wanted to. There have been even cases, although rare ones, when a future Queen made her favourite warrior a consort.
The warrior was injured but he could walk on his own. Meena returned with her prize to the palace and caged him in her quarters.Then one of her slaves was sent to dress his wounds, give him some food and adornments. Next day, when the presentation of catches began, she led him proudly to the old Queen. Her two cousins stood there, each with her catch by her side. No one of them was acompanied by a warrior, though. Meena smirked a bit but then her eyes went wide - her oldest cousin, Aude, approached without the necessary ceremonial greetings and pointed rudely at Meena.
"If you think you see the future Queen, you are wrong. You only see a cheat."
The silence was so deep that it ringed in your head.
"Prove it!" snarled Meena when she regained her composure a bit. Now it was Aude's turn to smirk.
"Look at this man. His tattoos are false. They are painted, not inked. It is a simple peasant masquerading as a warrior."
"Liar!" shrieked Meena.
Aude just took a cloth, soaked it in a pool and came closer to the man presented by Meena. She started to wipe the tattoos off his skin. He didn't protest, silently observing Aude's hands. The magical whorls and patterns were disappearing in no time. False. Fabricated. Painted. By whom, though? Meena didn't know but she decided an open attack was the best defence.
"What kind of catch did you bring, dear cousin? A fox? A rabbit? A shrew? My slave is still more valuable than those."
Aude looked at her and drawed her short sword in total silence. Her movements were so fast that nobody reacted. Not until the head of Meena rolled on the ground and her body fell where she stood spouting hot, red blood.
"That was quick," said the old Queen. "Quick and clever. Aude didn't manage to capture a warrior but she prevented a cheat from having the crown. Our Goddess was silent today so it's up to me to decide and I've taken my decision. Aude deserves our gratitude. I can't imagine a better Queen."
***
Later on, after the coronation, Aude was led to her new quarters. The man who had been caught by Meena accompanied her, keeping reverently his distance. She stopped when they reached the stairs, turned and took his hand.
"Don't hide behind my back. You did well and you will be rewarded for your ordeal as I promised. You will become my consort."
That's how I imagine Aude - in the photo you see a portrait of Meena Kumari (Photo credit: Wikipedia)