Directed by:
Bryan Singer
Genre: Action/adventure drama
Cast:
Ravenna: Charlize Theron
Snow White: Kristen Stewart
The Huntsman: Chris Hemsworth
King Magnus: Noah Huntley
Finn (Ravenna's brother) :Sam Spruel
Year: 2012
MPAA rating: PG-13
My impressions:
In the kingdom of idiocy a halfwit can be a king…King Magnus, a heavily depressed widower, fits the bill. You see, after the death of his wife he was attacked by an army of strange, black zombies. Not even asking one single question he went into battle and defeated them all. On the battlefield his people found a closed cart with a young woman inside. As soon as Magnus saw her he thought: "A perfect candidate for a Queen – a dirty, stinking, helpless blonde in rags, moaning like a weak kitten. What's more I know nothing about her or her kin…just great! Who needs all those pesky in-laws?"
Poor king, apparently nobody has informed him that physical exercise is good for depression or maybe his BDSM proclivities kicked in as well; anyway he and the hapless blonde, called Ravenna, married the very next day. During their wedding night Ravenna showed her ugly side. Not only she told her new husband that in her humble opinion all men are chauvinistic swines (and he was necking her so nicely at the time, poor idiot) but also she killed him with a vicious-looking dagger soon afterwards, not even waiting for his opinion. Still Ravenna wasn't aware that idiocy has already infected her. The proof? She let princess Snow White live. Why? Apparently because the girl had paid her a rather trivial, childish compliment. Or maybe the Queen has already been planning committing suicide by Snow White in the near future? Who knows?
Anyway our dear Ravenna kills her hubby in their bed and NOBODY reacts or investigates or at least says in a polite, cultured voice: "oh really?".Obviously Magnus had very few friends in his own castle. Then the new Queen calls her buddies in, a band of thugs commanded by her brother Finn, and she starts the reign of terror. Woohooo! You see, she is an evil witch who only thinks of her own beauty and powers – in order to stay on top she feeds off young, pretty girls, sucking the vital forces out of them. A regular vampire, Bella Swann/Cullen, would approve but Snow White is not given such an opportunity - she is imprisoned in a tower. Still it is obvious that somebody regulates her eyebrows from time to time so it is perhaps not so bad. Meanwhile her evil stepmother bathes in milk wearing nothing but her crown (seriously, I would like that bathtub of hers) and consults her faithful mirror. Everybody who counts is happy as the kingdom turns into a Goth's paradise with naked trees, ravens cawing and people wearing stylish black leather clothes and heavy make-up when idiocy strikes back.
The mirror informs the Queen that Snow White, now fully-grown and completely stupid young woman, is actually more beautiful than her and might defeat her one day. Well, I looked and looked and couldn't see how it might be possible: Kristen with her long teeth and equally long, narrow face being prettier than Charlize…maybe the mirror, infected by the omnipresent idiocy, lied. Well, look for yourself - who is prettier? Is there a big difference? BTW I like Charlize's dress far more.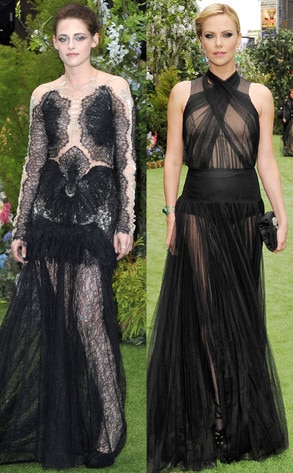 Ok, dum-dum-dum-dum Ravenna finds out that only by tearing Snow White's heart out she will be safe. No problem. She sends her brother to fetch the princess from her tower but she's just made a big mistake – poor Finn in his badly fitting white-blond wig and with a scared face (thus we know he is a baddie) has been fascinated by Snow White for some time now and, lost in a fantasy of giving the girl the first proper grope, he allows her to escape into Black Forest. A small army of people is chasing her and yet she escapes. Yes, Finn and his men got that stupid.

From now on idiocy is spreading on whenever Snow White happens to show her pale, narrow face. It clings to her like noxious fumes; soon it infects the Huntsman, sent to find the girl, and everybody around them, including one poor digital troll, a pair of albino elves-monkeys and a band of dwarves. Ravenna is hardly immune - she has one perfect opportunity to kill Snow White when she,

incarnating William,

gives her that poisoned apple and then she loses plenty of time gloating and prattling. Idiocy. The movie ends as it should – Snow White is revived by a kiss (not telling whose) and Ravenna is killed by her nemesis clad in a heavy armour, Jeanne d'Arc style. Then Snow White is crowned as the next queen. Still I fear it is not the real end; apparently the producers are planning a sequel because our sweet heroine hasn't married (or at least bedded) either the grumpy Huntsman (bad breath and too high alcohol intake I suppose) or her childhood aristocratic friend, William (too long teeth make him look a bit like rabbit when he smiles). I sniff a romantic trio. Haven't I repeated over and over again that idiocy is spreading?




Final verdict:

What could be said...imagine you are a woman who, by sheer luck, has found out how to keep your beauty and youth intact while living like forever. What would you do? Would your first option be invading a kingdom after a kingdom, killing your new husband every time and estranging even those people who really like black leather clothes with studs? Would you ask anxiously a certain magical artifact over and over again 'who is the fairest of them all' even though you don't know where it keeps its brains? No? Don't watch this movie then – it is not worth it. Not even the special effects. Not even the closing song by Florence and the Machine. The song (Breath of Life), though, is worth listening to but it can be found on Youtube for free- enjoy!